Darien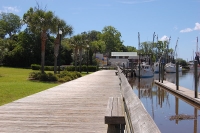 Darien Waterfront Park © Jud McCranie
A short drive south of Savannah lies the charming old town of Darien, established in 1736 on the banks of the Darien River as a military outpost.
Today it is a favoured tourist attraction. Its historic shopping enclave specialises in unique gifts and antiques, and the picturesque waterfront is filled with shrimp boats. A series of walking and bike paths, lined with Spanish moss-draped oak trees, connect the downtown waterfront with Fort King George, which houses a museum and plays host to living history pageants.
Other diversions include paddling the river and tidal creeks in kayaks or canoes, and dining on shrimp. The area around Darien in McIntosh county particularly scenic, dotted with quaint fishing villages like Valona and Shellman Bluff. Just offshore, accessible by ferry across Doboy Sound, is the pristine barrier island of Sapelo, which boasts one of Georgia's most beautiful beaches and a restored lighthouse.
Website: www.cityofdarienga.com