Rocky Mountain National Park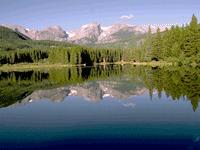 The most popular attraction in Colorado is the spectacular Rocky Mountain National Park, with its snow-covered peaks, flower-flecked meadows, alpine lakes, thundering waterfalls and wildlife. These images of beauty have graced countless calendars and coffee-table books and are instantly recognisable as Colorado. Because of the high elevation of the park, of which a third is over 11,500 feet (3,505m), there are large areas above the tree line of alpine tundra, constant snow and flora seldom found outside the Arctic.
Although usually considered the realm of hikers, climbers, fishermen and horse riders, it is possible to enjoy the park without breaking a sweat thanks to one of America's most scenic drives, the Trail Ridge Road. Crossing the Continental Divide at over two miles (3km) above sea level, the 48-mile (77km) highway linking Estes Park to Grand Lake is one of the highest continuous highways in the country, affording dizzying views in all directions. The sweeping vistas of snowy peaks and glaciers, forests, streams and meadows where elk, mule deer and bighorn sheep can be seen, are exceptional. The road also provides access to several walking trails. In winter the road is closed, but activities such as cross-country skiing, ice fishing and snow-shoeing are popular.
Most visitors come during the summer months, but the park can get quite crowded and the roads congested; the best time to enjoy the park is early autumn, after the crowds and before the winter snows. The resort village of Estes Park is the eastern gateway to the park and very popular with visitors, while the western resort of Grand Lake is quieter with an idyllic setting on the shores of a large lake.
Website: www.nps.gov/romo
Telephone: (970) 586 1206, or 586 1333 (recorded information)
Transport: Estes Park Shuttle runs from the Denver Airport to Estes Park. It is possible to pick up a tour from Estes Park or Denver. Getting around the park requires private transportation, from June to Labor Day there is a shuttle bus in Moraine Park and Bear Lake
Opening times: The park is open 24 hours a day year round; see website for different Visitor Center opening hours.
Admission: $20 per vehicle, or $10 per individual hiker, cyclist or motorcyclist. Passes are valid for seven days.