The Statue of Liberty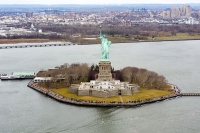 Lady Liberty, NYC © D Ramey Logan
The universal symbol of freedom and democracy, the Statue of Liberty was the first sight to be seen by the 12 million immigrants who passed through the Ellis Island Immigration Centre. Sculpted by Frederic-Auguste Bartholdi and modelled on the Colossus of Rhodes, the statue was donated by the people of France in 1886 to commemorate the alliance between the two countries during the American Revolution. The ferry calls at both Liberty and Ellis Islands, and tourists can visit Ellis Island Museum, which documents the experiences of the immigrants. On Liberty Island, advance bookings allow visitors to access the crown of the famous statue, but these tickets must be booked something like six months in advance in the peak summer season.
Address: Liberty Island, New York Harbor
Website: www.nps.gov/stli
Transport: Circle Line Statue of Liberty Ferry from South Ferry at Battery Park to Liberty and Ellis islands. Ferries depart approximately every 30 minutes.
Opening times: Ferries depart between 9am and 3.30pm.
Admission: Ferry fee (which includes access to the grounds around the statue): $18. Tickets for access to the Pedestal and Crown must be booked in advance.