World Trade Center - Ground Zero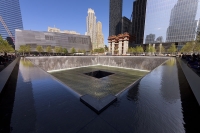 9/11 Memorial NYC © NormanB
The six-hectare (16-acre) work site that has emerged from the rubble of the twin towers has come to symbolise the dreadful events of September 11, 2001 when almost 3,000 people lost their lives. The 1,350ft (411m) World Trade Centre towers were the tallest buildings in New York and proud symbols of the city. Millions now come to pay tribute at the site and witness the devastation from one of the viewing sites. In April 2003, the Lower Manhattan Development Corporation launched a worldwide competition to design a memorial at the World Trade Center site to honour the victims of September 11. The LMDC received 5,201 memorial design submissions from 63 nations and 49 states making this the largest design competition in history. In January 2004 'Reflecting Absence' by Michael Arad and Peter Walker was unveiled as the design for the World Trade Center Memorial. The memorial features a landscaped civic plaza with two massive voids aligned with the footprints where the twin towers once stood. The memorial and museum are now open to the public, providing an accurate and moving account of what the community endured during the attacks.
Tourists should be mindful that this is a sombre memorial frequented by mourning family members, making things like loud chatter and smiling selfies inappropriate.
Address: Tribute WTC Visitor Center: 120 Liberty Street
Website: www.national911memorial.org
Transport: Take the subway to Fulton Street, Broadway-Nassau Street or Cortlandt Street. Walk to Church and Liberty Streets and follow signs
Opening times: The memorial is open daily 7.30am - 9pm; the museum is open 9am to 8pm Sunday to Thursday, and 9am to 9pm Friday and Saturday.
Admission: Admission is free for the family of 9/11 victims; general admission is $24 for adults with concessions available.