Central Park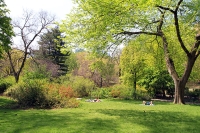 Central Park, NYC © Ingfbruno
With great foresight, the founders of New York set aside 340 hectares (840 acres) of central Manhattan as a public space. Central Park officially opened in 1873 and today provides an essential green lung within the concrete jungle that is New York.
Originally designed by Frederick Law Olmsted and Calvert Vaux, the park contains themed gardens, tennis courts, lakes, and even a small zoo. Much of the park is infused by the city's bustle and on nice days it swarms with joggers, skaters, buskers, and tourists,
But there are areas beyond the range of baseballs and frisbees where tranquillity can be found in this beautifully landscaped park. It also hosts performances of everything from rock music to Shakespeare.
During winter, two ice-skating rinks open up in Central Park. The Wollman Rink, found mid-Park at 62nd St, is one of the most picturesque in the world and set among the trees and rolling hills, against the backdrop of Manhattan's skyscrapers.
Website: www.centralparknyc.org