Museum of Modern Art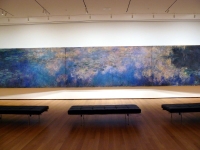 Museum of Modern Art, NYC © Trish
Founded in 1929, the Museum of Modern Art owns the most important collection of modern art in the United States. Referred to as MoMA, artists with work on display include greats such as Monet, Van Gogh, Matisse, Picasso, Max Beckman, Ansel Adams and Kiki Smith. What started as a gift of eight prints and a drawing developed into a vast and varied collection of some 150,000 paintings, prints, sculptures, photographs, and other media. MoMA's Library and Archives boast an impressive collection of books, historical documents and photographs. Priding itself as an educational institution, the Museum of Modern Art offers various activities and programmes for the general public. In addition, special segments broaden the community knowledge of and approach towards the exciting and puzzling world of modern art.
Address: 11 West 53rd Street, Manhattan
Website: www.moma.org
Transport: Subway: E or V train to 53rd Street and Fifth Avenue, or B, D, or F train to 47/50 Street Rockefeller Center. Bus: M1, 2, 3, 4, or 5 to 53rd Street
Opening times: Daily 10.30am - 5.30pm (until 8pm on Friday).
Admission: $25 (adults), free for children under 16 accompanied by an adult. Concessions available.