Metropolitan Museum of Art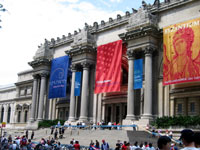 Metropolitan Museum of Art ©
The Metropolitan Museum possesses one of the greatest, and largest, collections of art in the world; it is a cherished New York institution and a must see for any visitor. Banners above the Met's Fifth Avenue entrance herald the current attractions; there are always a few temporary exhibitions displaying masterpieces from around the world alongside the Metropolitan's own permanent collection. The highlights of the permanent collection are numerous, American collectors having had the foresight, and cash, to buy up a large number of Impressionist and Post-Impressionist masterpieces from Europe at the end of the 19th century. The Metropolitan Museum's collection now contains more than two million works of art from all points of the compass, from ancient through modern times, including great works by Van Gogh, Renoir, Monet and Cézanne to rival any art collection in the world.
Address: 1000 Fifth Avenue, at 82nd Street
Website: www.metmuseum.org
Telephone: (212) 535 7710
Opening times: Tuesday to Sunday 10am-5:30pm, closes 9pm Friday and Saturday.
Admission: $25 adults, free for children under 12 accompanied by an adult. Other concessions available.