American Museum of Natural History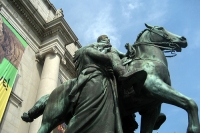 Statue of Theodore Roosevelt © wallyg
Challenged only by its counterpart in London, the American Museum of Natural History is the largest and most important museum of its kind in the world. More than 30 million artefacts are packed into 42 exhibition halls - quite enough to keep anyone busy on a rainy afternoon. The most popular exhibit is a 50ft (15m) tall skeleton of a barosaurus in the Theodore Roosevelt Rotunda, and there are three more spectacular dinosaur halls on the fourth floor. Other halls include the Hall of Biodiversity, the Hall of Ocean Life, the Hall of Human Biology and Evolution and the fabulous Hayden Planetarium: a 90ft (27m) wide aluminium sphere that seems to float inside a massive glass cube, which in turn is home to the Rose Center for Earth and Space. Those tired of walking can check out the Museum of Television and Radio.
Address: Central Park West, at West 79th Street
Website: www.amnh.org
Telephone: (212) 769 5100; 769 5200 (tickets and programs)
Opening times: Daily 10am-5:45pm, except Christmas Day and Thanksgiving.
Admission: Suggested admission $22 (adults). Concessions available. Rose Centre for Earth and Space, IMAX, and Planetarium have additional charges.