Miami Science Museum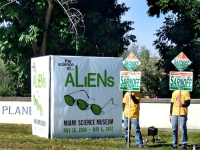 Nothing is staid or boring in Miami, least of all its museums. The Miami Science Museum, north of Coconut Grove, contains more than 140 exhibits, all designed to be hands-on and interactive, coupled with live demonstrations and collections of rare natural history specimens that make discovering and learning a great deal of fun. The Wildlife Center boasts more than 175 live reptiles and birds of prey, and the adjacent Space Transit Planetarium provides more thrills with projected astronomy and laser light shows.
Address: 3280 South Miami Avenue
Website: www.miamisci.org
Telephone: (305) 646 4200
Opening times: Daily 10am-6pm (box office closes at 5:30pm); closed Thanksgiving and Christmas Day.
Admission: $14.95 (adults), $10.95 (children 3-12), Free for children under 3. Other concessions are available. Prices include entrance to all museum galleries, planetarium shows and the wildlife centre