Miami Science Museum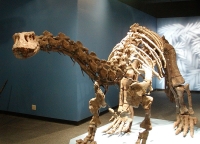 Miami Science Museum © FarleyKatz
Nothing is staid or boring in Miami, least of all its museums. The Miami Science Museum, officially called The Patricia and Phillip Frost Museum of Science, north of Coconut Grove, contains more than 140 exhibits, all designed to be hands-on and interactive, coupled with live demonstrations and collections of rare natural history specimens that make discovering and learning a great deal of fun. The Wildlife Center boasts more than 175 live reptiles and birds of prey, and the adjacent Space Transit Planetarium provides more thrills with projected astronomy and laser light shows. The whole family is bound to enjoy a visit to this science centre and the trip should prove educational for all ages. Please note that the museum has relocated and is currently closed until their opening on 8 May 2017, in the new downtown Miami location.
Address: 1101 Biscayne Blvd, Miami, FL
Website: www.frostscience.org/
Telephone: (305) 434 9600
Opening times: Open daily from 9am to 6pm.
Admission: $28 (adults); $20 (children 3-11 years old). Free for infants up to two years old.