Miami-Dade Cultural Centre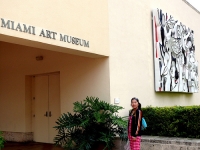 The outwardly unattractive complex of the Miami-Dade Cultural Centre, in the rather unsavoury area of West Flagler Street, is worth a visit because it houses a plethora of interesting artistic and historic exhibits. The Centre contains the Miami Art Museum (www.miamiartmuseum.org), featuring a collection of modern and contemporary works by American, Latin American and Caribbean artists. There are also themed exhibits, which bring art and artists to life, as do the twice-monthly 'happy hour' parties, organised to highlight a particular exhibit. The Cultural Centre also contains the Historical Museum of Southern Florida (www.hmsf.org) with exhibits that relate to the fascinating history of the area and the culture, folklore and archaeology of South Florida and the Caribbean.
Address: 101 West Flagler Street
E-mail: info@hmsf.org (Historical Museum)
Telephone: Art Museum: (305) 375 3000; Historical Museum: (305) 375 1492
Transport: Government Center metrorail station
Opening times: Art Museum: Tuesday to Friday 10am-5pm, Saturday and Sunday 12pm-5pm. Closed on Monday. Historical Museum: Monday to Saturday 10am-5pm, Sunday 12pm-5pm. Closed Mondays.
Admission: $8 (adults), $5 (children 6-12) to each museum. Free for children under 6.