Vizcaya Villa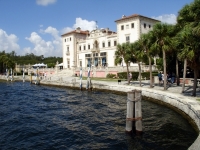 Vizcaya Museum, Miami © Tom Schaefer
Lovers of antiques revel in visiting the magnificent 34-room Vizcaya bayfront villa, built in the Italian Renaissance style in 1916 as a winter retreat for wealthy industrialist James Deering. The grand mansion took hundreds of artisans five years to complete, and the formal gardens, which surround the villa fronting on Biscayne Bay, took even longer to lay out. Today visitors can tour the villa and grounds, enjoying the original furnishings and décor in a variety of Renaissance, Baroque, Rococco and Neoclassical styles. Vizcaya Villa gives visitors a taste of the best of Europe in the heart of Miami, melding cultures very pleasingly.
Address: 3251 South Miami Avenue
Website: www.vizcayamuseum.com
Telephone: (305) 250 9133
Transport: Metrorail to Vizcaya station
Opening times: Daily (except Tuesdays) 9:30am-4:30pm; closed Thanksgiving and Christmas Day.
Admission: $18 (adults), $6 (children 6-12). Free for children under 5. Other concessions available.