Everglades National Park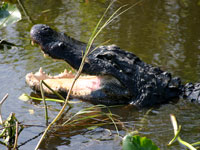 Everglades National Park © National Park Service
The vast Everglades National Park that spans the tip of the Florida peninsula, 35 miles (56km) southwest of Miami, has been described as a 40-mile-wide (64km) slow-moving river of grass, interspersed with shallow wetlands. It is the only subtropical preserve in North America, containing temperate and tropical plants. It also boasts dozens of endangered species that find a home in this natural habitat, like the swallowtail butterfly, American crocodile, leatherback turtle, southern bald eagle and West Indian manatee. The best way to explore the park is by canoe; although private operators also run rapid air-boat tours, which are popular with thrill-seeking visitors. The park has been accorded several honours including its designation as a UNESCO World Heritage Site, an International Biosphere Reserve and a Wetland of International Importance.
Website: www.nps.gov/ever
Transport: Greyhound buses service Homestead, but no public transport is available from there to the park entrance. There is no public transportation within the park, but canoes and kayaks can be rented in the park.
Opening times: Open year round; the main park entrance (near Homestead and Florida City) is open 24 hours a day. Hours vary for different entrances, see the website for specific dates.
Admission: $10 per vehicle, or $5 per pedestrian/cyclist. Passes are valid for seven days.