Busch Gardens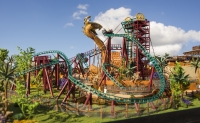 Cobras Curse at Busch Gardens Tampa Bay © Busch Gardens
Busch Gardens is an extraordinary adventure park: a combination between massive zoo and theme park. It predates Florida's more famous Walt Disney World and offers an equally exciting and entertaining experience for visitors. The park is based on an overall African theme, divided into numerous different areas with thousands of animals living in naturalistic environments. At Busch Gardens it is possible to come face-to-face with some of the world's most endangered animals, including Bengal tigers and orangutans. The site also contains thrill rides, live entertainment venues, shops, and restaurants, all overseen from the Skyride cable car that crosses high above the park. In one day it is possible to visit Tutankhamen's Tomb in Egypt, cross the plains of the Serengeti, and watch snake charmers in a Moroccan sultan's tent. Popular rides include the Cheetah Hunt rollercoaster, that travels up to 60miles per hour (96 km per hour), and the Falcon's Fury drop tower. Opening times vary according to season so be sure to check the official website when planning your trip. If you plan to visit any other theme parks in the region it is well worth investigating the combination tickets on offer for deals.
Address: 10165 N McKinley Drive
Website: www.buschgardens.com
Opening times: Monday to Friday 10am-6pm; Saturday 10am-8pm; Sunday 10am-7pm.
Admission: $90 adults, other concessions available