Sea World Orlando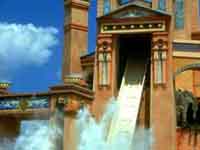 Spread out between the Disney parks at Lake Buena Vista and the downtown Orlando area is the renowned Sea World attraction, which has been making a major splash in central Florida for more than a quarter of a century. The park, owned and operated by Annheuser-Busch, is designed to give an interactive look at the sea and all its facets, featuring themed animal habitats from tidal pools to iceberg lakes. In addition visitors can hug a dolphin or kiss a killer whale, and watch the famous aquatic Sea World stars go through their paces in various shows. The park also features fun rides like the very popular water roller coaster thrill ride called Journey to Atlantis. Neighbouring Discovery Cove (part of the Sea World group) offers visitors a chance to swim with dolphins, view wildlife, sunbathe on gorgeous beaches and snorkel amongst the coral.
Address: 7007 Seaworld Drive, Orlando
Website: seaworldparks.com/en/seaworld-orlando
Telephone: (800) 327 2424
Opening times: Open daily from 9am, but closing hours vary according to the month, closing earlier in winter.
Admission: $81.99 (adults), $73.99 (children). Packages and combination tickets are available. Discounted tickets are available through the website.