SeaWorld Orlando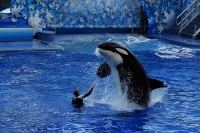 SeaWorld, Orlando © David R. Tribble
Spread out between the Disney parks at Lake Buena Vista and the downtown Orlando area is the renowned SeaWorld attraction, which has been making a major splash in central Florida for more than a quarter of a century. The park is designed to give an interactive look at the sea and all its facets, featuring themed animal habitats from tidal pools to iceberg lakes. In addition, visitors can hug a dolphin or kiss a killer whale, and watch the famous aquatic SeaWorld stars go through their paces in various entertaining shows.
SeaWorld is well-known for its epic rides as well as exciting animal encounters, and as of June 2016 the theme park launched Mako, a huge rollercoaster that reaches speeds of up to 73 miles per hour (117km per hour) on an impressively long steel track, leaving riders feeling both breathless and weightless. The ride is the tallest, fastest and longest coaster in Orlando.
Neighbouring Discovery Cove offers visitors a chance to swim with dolphins, view wildlife, sunbathe on gorgeous beaches and snorkel among the coral.