Universal Studios Florida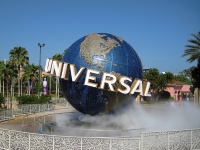 Universal Studios © Robert Linsdell
The delights that the Universal Orlando entertainment complex has to offer are so numerous that it takes at least two days to fully appreciate. There are two theme parks: the Islands of Adventure and Universal Studios. Universal Studios is a movie-themed park with thrilling, innovative rides, production studios, and film sets where visitors can go behind the scenes and see the tricks used to create movie magic. Islands of Adventure offers thrilling rides, shows, and villages on five different islands all based on hit film classics. On-site are three superb luxery hotels, so that the fun never has to end at Universal Orlando.
Address: 6000 Universal Boulevard
Website: www.universalorlando.com
Telephone: (407) 363 8000
Opening times: Monday 9am-9pm, Tuesday-Thursday 9am-7pm, Friday 9am-8pm, Saturday 9am-9pm, Sunday 9am-10pm.
Admission: $90 adults, $70 children.