Wet 'n Wild Orlando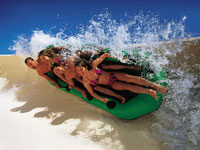 One of Orlando's numerous water parks, Wet 'n Wild has the distinction of being the most popular water attraction in the area and also the world's first amusement park devoted solely to water flumes, pools and slides. The park was designed by George Millay, creative genius behind the Sea World parks in San Diego and Orlando, and has been operating since 1977. Thrilling rides like The Storm, The Surge and The Bubba Tub are there to be enjoyed, along with numerous other attractions and facilities.
Address: 6200 International Drive
E-mail: info@wetnwildorf.com
Website: www.wetnwildorlando.com
Telephone: (407) 351 1800; or (800) 992 9453 (toll-free, US only)
Opening times: Open daily year-round, but hours vary according to the season. Generally the park opens between 9am and 10am and closes between 5pm and 7pm, with longer hours during June and July.
Admission: $48.99 plus 6.5% sales tax (adults), $42.99 plus 6.5% sales tax (children 3-9). Other concessions apply, and multi-day and multi-park passes are available. Half-price admission is available on most afternoons.