Orlando Odditorium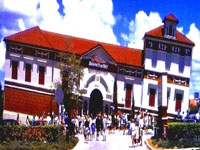 Housed in an odd-looking building that is tipped to one side and apparently sinking into the ground, the Orlando Odditorium contains a remarkable collection of weird and wonderful exhibits, amassed over a period of 40 years by explorer Robert Ripley. Examples of the exhibits are shrunken heads and a scale model of a Rolls Royce made entirely of matchsticks. Ripley's 'Believe it or Not' collection is world-renowned and has been documented in television series and best-selling books.
Address: 8201 International Drive
Website: www.ripleysorlando.com
Telephone: (407) 363 4418
Opening times: Open daily 9:30am to midnight.
Admission: $19.99 plus tax (adults), $12.99 plus tax (children 4-12). Discounted tickets are available through the website.