Kennedy Space Centre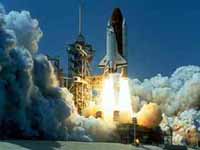 The John F. Kennedy Space Centre at Cape Canaveral, 46 miles (74km) southeast of Orlando on Florida's east coast, is one place in this fantasyland state where fact is just as entertaining as fancy. Visitors to the centre follow the story of NASA's exploration of space through interactive exhibits, movies and tours. Guests can tour a full-size replica of the space shuttle 'Explorer'; walk through a giant model of a module from the new International Space Station; view films about Mars and the Pathfinder exploration; view historic authentic rockets, like that piloted by pioneer astronaut, John Glenn; and marvel at the Apollo/Saturn Centre, which houses all the artefacts from the historic moon landing. The Space Centre requires several hours to digest, and on the same site is the Merritt Island National Wildlife Refuge, established on the land NASA did not require for its space operations. The 220-square-mile (570 sq km) refuge contains more endangered species than any other wildlife refuge in the US, including the southern bald eagle and Atlantic loggerhead turtle. The US Astronaut Hall of Fame, in the nearby town of Titusville, is another of the area's attractions.
Address: State Road 405, Kennedy Space Centre
Website: www.kennedyspacecenter.com
Telephone: (321) 449 4444
Opening times: Daily 9am-6pm, with two-hour shuttle-bus tours departing regularly between 10am and 2:45pm. The Astronaut Hall of Fame closes at 7pm.
Admission: General admission: $43 (adults), $33 (children 3-11). Astronaut Hall of Fame only: $20 (adult), $16 (children 3-11). Other options are available.