Fantasy of Flight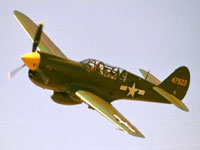 Midway between Tampa and Orlando, about 20 minutes drive west of Walt Disney World, the Fantasy of Flight resort is billed as the world's greatest aircraft collection. The attraction began as a vision of aviation enthusiast and historian, Kermit Weeks, as a tribute to the pioneers of flight, and today it features many rare and vintage aircraft, which actually take to the skies. Visitors are treated to an 'Aircraft of the Day' flypast, as well as the chance to fly themselves in a simulator. The site also offers tours of the aircraft collection in hangars, a sight and sound presentation detailing the history of aviation, a tour of the 'back lot' where vintage aircraft are restored, and an Exploration Centre.
Address: 1400 Broadway Boulevard S.E, Polk City
Website: www.fantasyofflight.com
Telephone: (863) 984 3500
Opening times: Daily 10am-5pm; closed on Thanksgiving and Christmas Day.
Admission: $28.95 (adults), $14.95 (children 6-12). Other concessions are available.