Civil War Soldiers Museum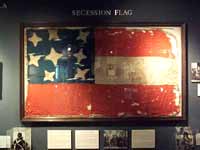 A store-front museum in Pensacola's business district houses a fascinating collection of Civil War artefacts gathered by a local physician, Dr Norman W. Haines Jr, throughout his lifetime. The exhibits have been arranged to give visitors an insight into what life as a civil war soldier was like. Particularly interesting are the medical exhibits. The collection also includes the handmade First National Confederate flag captured by Wilson's New York Zopuaves during the Battle of Santa Rosa Island in October 1861.
Address: 108 South Palafox Place
E-mail: info@cwmuseum.org
Website: www.cwmuseum.org
Telephone: (850) 469 1900
Opening times: Tuesday to Saturday 10am-4pm.
Admission: $6 (adults), $5 (military), $2.50 (children 6-12). Group tours are available