Oahu Beaches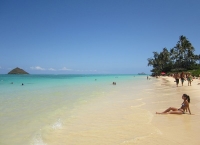 Lanikai Beach © Hakilon
The main attraction for visitors to Oahu are the range of 139 beaches which, from the pounding waves of the north shore to the gentle swells of Waikiki in the south, offer the chance to bathe and soak up the sun, or tackle a variety of watersports in water temperatures that never fall below 75ºF (24ºC) all year round.
The south shore is favoured by families, offering picnic spots and opportunities for snorkelling, tide-pooling and swimming. Magic Island near Waikiki is a peninsula where the beach is protected by a man-made breakwater offering safe bathing and a stretch of shady, grassy areas on which to picnic. At Ala Moana Beach a half-mile of white sand is protected by a reef, washed by calm shallow waters. Hanauma Bay marine sanctuary is located in the crater of an extinct volcano and is an ideal snorkelling spot while Waikiki Beach, the most famous stretch of sand in the world, draws about four million visitors a year to its sands where sun worshippers can buy fast food, snacks and cocktails to enjoy under their rented umbrellas.
The North shore is favoured by surfers, particularly during the winter months when waves can reach heights of 25 feet (8m) at beaches like Ehukai with its famed Pipeline, Sunset Beach and Waimea Beach.
The East shore boasts lush tropical beach settings with conditions ideal for windsurfing and sailing. Kailua Beach Park is picturesque and usually in the 'top ten beaches in the United States' lists. Lanikai is even better. Sandy Beach is popular for kite-flying, and Waimanalo offers four miles of uninterrupted white sand framed by palm trees.
On the West coast the Ko Olina Resort and Marina offers seven crescent shaped sandy beaches with palm trees and views of the Waianae Mountains, and Yokohama Bay is a quiet, beautiful spot away from the madding crowds.