Cooperative Mines of Cerro Rico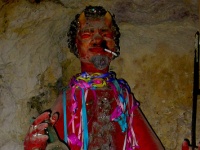 Mines of Cerro Rico idol © Ahron de Leeuw
Entering the mines is like stepping back in time, with the current mining conditions untouched by modern advances. Visitors can experience conditions much the same as when the Spanish used Andean peasants as slave labourers to work the wealth from the silver deposits in the hills. Guided tours lead groups along the narrow tunnels and up rickety ladders, stopping along the way to chat to the miners at work.
However, it is important for visitors to remember that this is the kind of life many people face in contemporary Bolivia, and an expedition into the mines should be carefully considered for ethical reasons, as it seems to support a hazardous lifestyle while conversely providing a much needed income for struggling Bolivians.
It is not difficult to find a tour operator offering mine tours out of Potosi - the best guides tend to be former miners. travellers need to be aware that these trips, though fascinating, are potentially dangerous.