Cooperative Mines of Cerro Rico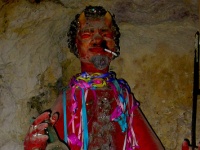 Entering the mines is like a step back in time. It is a demanding, shocking yet memorable experience. Visitors can experience conditions much the same as when the Spanish used Andean peasants as slave labourers to work the wealth from the silver deposits in the hills. Guided tours lead groups along the narrow tunnels and up rickety ladders, stopping along the way to chat to the miners at work. Working conditions are primitive, shafts are poorly ventilated and safety provisions barely exist. The miners work by hand, chipping away at the rock and hewing out rough shafts in which to place their dynamite. An occasional blast shakes the tunnels and deafens the ears. Thousands of miners work their way through the mountain with no overall control or plan, chewing their way through bags of coca leaves to fend off hunger, exhaustion and altitude sickness, in the hope of hitting a rare vein of silver.
It is not difficult to find a tour operator offering mine tours - the best of the guides tend to be ex-miners - but travellers need to be aware that these trips, though fascinating, are potentially dangerous. Even those who feel physically safe may find the experience psychologically harrowing. Those that dare a mine tour should wear clothes they don't mind throwing away after!
Address: The mines are located in the outskirts of Potosi