Iolani Palace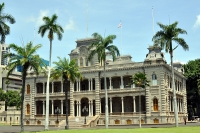 Iolani Palace © WPPilot
The only royal residence in the United States, the Iolani Palace, stands on the corner of King and Richard Streets in Honolulu, its opulent interior giving a glimpse into the lives of Hawaii's last reigning monarchs between 1882 and 1893.
It was originally home to King Kalakaua and his Queen, until he died in 1891. His successor, Queen Lili'uokalani, then took up residence until the Hawaiian monarchy was overthrown in 1893 by the US Marines in a palace coup. The palace has been fully restored. Visitors on guided tours can see the portraits of Hawaiian kings and queens, valuable vases and statuary, the grand staircase, the throne room decorated in crimson and gold, the state dining room and the royal family's private quarters.
Address: 364 South King Street, Honolulu
Website: www.iolanipalace.org
Telephone: (808) 522 0822
Opening times: Monday to Saturday 9.30am-4pm. Closed Sunday. Guided tour groups enter the palace every 15 minutes between 9am and 10am (Tuesdays and Thursdays), and between 9am and 11:15am (Mondays, Wednesdays and Saturdays).
Admission: Guided Tour: $21.75 adults, $6 children 5-12. Note that reservations are required. Other tour options are also available.