Haleakala National Park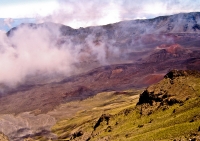 Haleakala National Park © Tony Webster
The Haleakala National Park extends from the summit of the volcano, down into the crater, then across the volcano's southeast slopes to Maui's east coast, beyond the town of Hana. The main reason for the park being visited by nearly one and a half million people a year, is the attraction of peering down into the crater of what is the world's largest dormant volcano. Haleakala last erupted in 1790, and has been deadly quiet ever since, although it is not considered to be inactive. The massive crater covers 19 square miles (49 sq km): big enough to hold the whole of Manhattan. Hawaiians regard the crater as a sacred site.
It is possible to drive to the summit along a twisting road that climbs 10,000 feet (3,000m) in just 37 miles (60km); visitors can also explore the desolate landscape inside the crater on hiking or biking trails. There are numerous other opportunities for recreational activities in the National Park too. The Park's headquarters just inside the park entrance provides information of activities and programmes offered. The Haleakala Visitor Centre near the summit of the volcano explains, via exhibits, the history, ecology, geology and volcanology of the area.
Address: Kula, HI
Website: www.nps.gov/hale
Telephone: (808) 572 4400
Opening times: 24 hours a day, 7 days a week. The Headquarters Visitor Center is open daily 8am-3:45pm; the Haleakala Visitor Center is open daily 5:30am-3pm; the Kipahulu Visitor Center is open daily 9am-4.30pm.
Admission: $25 per vehicle or $12 per individual, which are valid for three days, also provide access to both the Summit and Kipahulu areas of the park.