Whalers Village Museum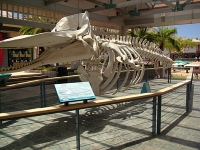 Whalers Village Museum © Mark Goebel
The whaling museum in the heart of Maui's commercial centre, Lahaina, documents the sleepy port city's evolution into a whaling boomtown in the middle of the 19th century, combining exhibits and educational displays. The Whaler's Village Museum is home to an impressive collection of whaling memorabilia including harpoons, sea chests and a re-creation of the crew's quarters on a typical whaling boat between 1825 and 1860, when men spent months afloat in a harsh environment chasing their massive quarry. The centre also shows films about whales and whaling history throughout the day. Please note that the museum is temporarily closed for renovations and is scheduled to re-open late 2016. Please check the website for updates.
Address: Whalers Village Shopping Centre, 2435 Ka'anapali Parkway
Website: www.whalersvillage.com/museum.htm
Telephone: (808) 661 4567
Opening times: Daily 10am-4pm.
Admission: $3 adults, $1 children 6-18. Other concessions available.