Hawaii Volcanoes National Park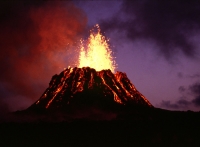 Pu'u 'O'o © G.E. Ulrich
In the Hawaii Volcanoes National Park surrounding the earth's most massive volcano, Mauna Loa, visitors can actually watch lava flow into the sea from Kilauea, the still active on-site volcano. Park rangers direct visitors to the daily eruption activity on a dramatic burnt landscape, which transforms the landscape with the ongoing eruption. The park is located 30 miles (48km) southwest of Hilo on Highway 11, on the south-east coast of Big Island. Inside the park the Thomas A Jaggar Museum provides a fascinating insight into the geology of a volcano, as well as the cultural aspect of Hawaii's legendary volcano goddess, Pele. Visitors can view seismograph readings, study earth science displays and enjoy photographs of volcanic eruptions.
Address: Hawaii Belt Road, Volcano, HI
Website: www.nps.gov/havo
Telephone: (808) 985 6000
Opening times: 24 hours a day, all year round. Kilauea Visitor Center is open daily 9am-5pm, and Jaggar Museum is open daily from 10am-8pm.
Admission: $25 per vehicle, or $12 per pedestrian. Passes are valid for seven days.