Parker Ranch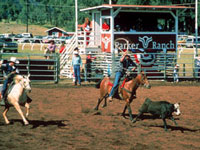 Forget about the Wild West, Hawaii gave birth to the original cowboys about 40 years before they took over Texas. The history of the Hawaiian Paniolo (cowboy) culture, going back 200 years, is captured in the Parker Ranch Museum and Visitor Centre in Waimea. Here visitors can experience paniolo herding, cutting, roping, branding and cattle-sorting on a wagon-ride that also takes in some ancient Hawaiian artefacts and historic corrals in the hill country, over and above the working cowboy station. The Parker Ranch is the third largest privately owned ranch in the United States. The Museum contains antique ranching tools, historic photographs and furnishings and is complemented by two historic homes on the site, which are open to visitors. The Mana Hale saltbox house, built of koa wood by Parker Ranch founder, John Palmer Parker, dates from the mid-1800s. The large Victorian home Puuopelo houses an art gallery containing some original works by Renoir, Degas, Dufy, Corot and Pissarro. Professional and amateur rodeo competitions are held regularly at the arena.
Address: 67-1435 Mamalahoa Hwy, Kamuela
E-mail: info@parkerranch.com
Website: www.parkerranch.com
Telephone: (808) 885 7655
Opening times: Monday to Saturday 9am-5pm. Horseback riding tours are available from Monday to Saturday, at 8:15am and 12:15pm
Admission: Horseback riding tours are available for $79 (excl. tax) per person.