Ellison S Onizuka Space Centre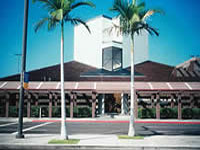 Ellison S Onizuka Space Centre ©
Visitors passing through the Kona International Airport will not be able to miss the clearly marked space centre that is dedicated to the memory of Big Island born astronaut, Ellison Onizuka.
The astronaut died in the 1986 Challenger Space Shuttle disaster, and the educational centre not only commemorates this event, but also contains displays about other manned space flight programmes, an interactive rocket propulsion exhibit, a moon rock, astronaut suit and models of spacecraft.
Address: Keahole-Kona International Airport, Kailua-Kona
Website: www.hawaiimuseums.org/mc/ishawaii_astronaut.htm
Opening times: Daily 8:30am-4:30pm. Closed on Thanksgiving, Christmas and New Year's Day.
Admission: $3 adults, $1 children. Other concessions available.