Museo de la Casa de la Moneda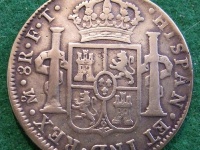 A silver Spanish coin © Jerry "Woody"
The Casa de la Moneda was the Royal Mint House used by the colonial Spanish to turn the silver from the mines into coins to be shipped back to Spain. This is one of Bolivia's best museums, explaining the history of silver production and its influence. Inside are restored presses and wooden minting machines, coins and coin stamps. It also has rooms containing religious art, many by indigenous Andeans, the country's first locomotive and Tiahuanaco artefacts.
Address: Ayacucho S/N, Villa Imperial de Potosí, Bolivia
Website: www.casanacionaldemoneda.org.bo
Telephone: +591 2 6222777
Opening times: 9am-12pm; 2.30pm-6.30pm - Tuesday to Sunday(closed on Mondays).