Museo de la Casa de la Moneda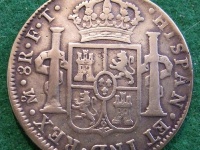 A silver Spanish coin © Jerry "Woody"
Spanish colonists used the Casa de la Moneda as their Royal Mint House, where they turned the silver they mined into coins destined for Spain. The institution is one of Bolivia's best museums, and covers the history of silver production in the country. Visitors will encounter coins and coin stamps, and assemblies of mule-driven wooden cogs that would beat silver into the right width for coining. They will also see a fascinating collection of religious paintings from the Potosi school (Baroque artwork).
Address: Ayacucho S/N, Villa Imperial de Potosí, Bolivia
Website: www.casanacionaldemoneda.org.bo
Telephone: +591 2 6222777
Opening times: 9am-12pm; 2.30pm-6.30pm - Tuesday to Sunday(closed on Mondays).