Art Institute of Chicago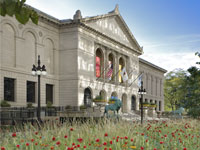 Art Institute of Chicago © Chicago CTB
An impressive pair of bronze lions guards the entrance to the Art Institute of Chicago in South Michigan Avenue, a museum which houses one of the greatest art collections in the world. Works date from 3,000 BC through to the present, including a renowned collection of Impressionist art featuring numerous Monet paintings. The Institute has it all, from Japanese ukiyo-e prints and ancient Egyptian bronzes to masterpieces of 20th-century sculpture. Exhibits include paintings and drawings, photographs, textiles, sculptures and architectural works. The Institute has two restaurants, one set in a garden, as well as a gift shop.
Address: 111 South Michigan Avenue
Website: www.artic.edu
Opening times: Daily 10:30am-5pm (until 8pm on Thursdays).
Admission: $23 (adults), $18 (discounted). Entrance is free on Thursdays 5pm-8pm.