Art Institute of Chicago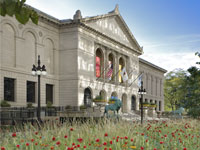 An impressive pair of bronze lions guards the entrance to the Art Institute of Chicago in South Michigan Avenue, housing one of the greatest art collections in the world. Works date from 3,000 BC through to the present, including a renowned collection of Impressionist art featuring numerous Monet paintings. The Institute has it all, from Japanese ukiyo-e prints and ancient Egyptian bronzes to masterpieces of 20th century sculpture. Exhibits include paintings and drawings, photographs, textiles, sculpture and architectural works. The Institute has two restaurants, one set in a garden, as well as a gift shop.
Address: 111 South Michigan Avenue
Website: www.artic.edu
Telephone: (312) 443 3600
Opening times: Daily 10:30am-5pm (until 8pm on Thursdays).
Admission: $18 (adults), $12 (children, free for under 14). Entrance is free on Thursdays 5pm-8pm. Free entry for the month of February.