Frank Lloyd Wright's Home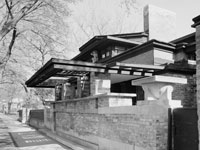 America's most renowned architect lived and worked in the complex, which served as private residence, studio and architectural laboratory for the first twenty years of his career, between 1889 (when he was 22) and 1909. Wright's haven started out as a simple cottage and was continually added on to by the architect resulting in unusual features such as a balcony suspended on chains. The complex is administered by the Frank Lloyd Wright Preservation Trust which offers guided tours. The neighbourhood of Oak Park contains the world's largest concentration of Wright-designed buildings and self-guided exterior audio tours of the 26 structures in the area are available.
Address: 951 Chicago Avenue, Oak Park
E-mail: info@wrightplus.org
Website: www.wrightplus.org
Telephone: (312) 994-4000
Opening times: Guided interior tours: weekdays at 11am, 1pm and 3pm, and during weekends between 11am and 4pm; self-guided exterior audio tours between 10am and 4pm daily.
Admission: Guided interior tour and self-guided exterior audio tour: $15 (adults), $12 (youth 11-18).