Lincoln Park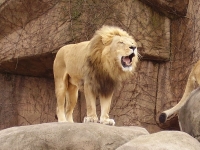 Lion at the Lincoln Park Zoo © Hot Dog Wolf
Lincoln Park, beginning at North Avenue and following the shore of Lake Michigan northwards, is Chicago's largest park. It contains many things to see and do, such as beaches, a botanical conservatory, a golf course, grassy meadows, formal gardens, and sports fields. Pride of place is held by the standing statue of Abraham Lincoln, sculpted by Augustus Saint-Gaudens. His sitting Lincoln is in Chicago's other famous green lung, Grant Park. The most popular attraction within the park is the Lincoln Park Zoo, which not only houses hundreds of exotic animals, but offers experiences like paddle boat rides, a virtual safari trip, and the Endangered Species Carousel with 48 artisan-crafted wooden animals that accommodates 50 riders at a time.
Website: www.lpzoo.com
Opening times: Opening times vary according to season, but the zoo is open every day of the year.
Admission: Free.