Shedd Aquarium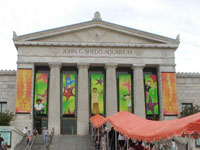 One of Chicago's best known attractions the Shedd, which opened in 1930, remains the world's largest indoor aquarium. The octagonal marble building houses more than 8,000 river, lake and sea creatures. The main attraction is the Caribbean Coral Reef exhibit and other marine habitat exhibits like a recreation of the Amazon basin and a 'Seahorse Symphony'. The aquarium also features an indoor saltwater Oceanarium housing marine mammals where dolphin shows are scheduled daily.
Address: 1200 South Lake Shore Drive
E-mail: contactus@sheddaquarium.org
Website: www.sheddaquarium.org
Telephone: (312) 939 2438
Opening times: Hours vary, generally 8:30am-6pm. Check website for detailed schedule.
Admission: Basic admission is $8 (adults), $6 (children 3-11). Various inclusive passes are available.