Lincoln's Home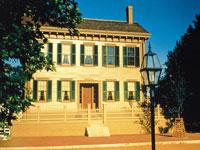 The pretty two-storey home of Abraham and Mary Lincoln was the only home the lawyer/president ever owned. He and his wife lived in the house between 1844 and 1861 when he was elected President. The home has been restored and stands as it was in 1860 in the midst of a four-block historic neighbourhood, which the National Park Service is restoring. The neighbourhood, like the house, will also soon appear much as Lincoln would have remembered it.
Address: 413 South Eighth Street
Website: www.nps.gov/liho
Telephone: (217) 492 4241, ext. 221
Opening times: Daily 8:30am-5pm.
Admission: Free