Old State Capitol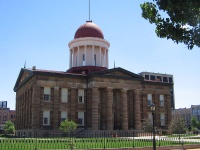 The Capitol building in the Downtown Mall, Springfield, was where Abraham Lincoln tried several hundred cases in the Supreme Court, borrowed books from the state library, and read and swapped stories with other lawyers and politicians in the law library. On May 3 and 4 in 1865 Lincoln's body laid in state in the Capitol's Representatives Hall as a crowd of more than 75,000 people filed past to pay their final respects to this beloved historic figure.
Address: 5th and Adams Streets
Website: www.illinoishistory.gov/hs/old_capitol.htm
Telephone: (217) 785 7960
Opening times: Hours vary according to season, check the website for more detailed information.
Admission: Free