Oak Ridge Cemetery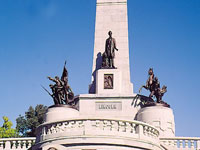 Abraham Lincoln was buried in Springfield's Oak Ridge Cemetery after his assassination in 1865. Today it is the second most visited cemetery in the United States, being the resting place not only of Lincoln but several other notable historic figures as well. Lincoln's tomb monument was designed by Larkin Mead and is one of the highlights of the Historic Monument Tour by guided audio cassette, obtainable from the Oak Ridge Cemetery office. A Civil War Retreat Ceremony is held at Lincoln's tomb each Tuesday evening during the summer.
Address: 1441 Monument Ave
Website: www.state.il.us/HPA/hs/Tomb.htm
Telephone: (217) 782 2717
Opening times: Tuesday to Saturday 9am-5pm, closes 4pm December to February; closed on public holidays.