Niagara Falls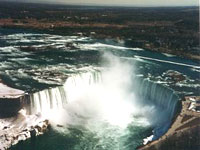 Niagara Falls © Judith Duk
The Niagara Falls straddle the United States and Canadian border, 340 miles (547km) northwest of New York City. They are one of the most popular natural attractions in the country, attracting more than 20 million tourists a year.
The Niagara River has been flowing for about 12,000 years. But the eroded escarpment over which the falls flow today is much older, forming during a previous ice age. The river plunges over a cliff of dolostone and shale, forming the second largest waterfall on earth after Victoria Falls in southern Africa.
It's best to appreciate the mighty torrent from a spray-filled 'Maid of the Mist' boat tour. But there are many different tours and tickets available. Interestingly, the falls have attracted daredevils over the years, who have gone down them in various contraptions.
Frenchman Jean Francois Gravelot performed the most famous of these feats, crossing over on a tightrope in 1859. His legacy is evident in the scores of tightrope walkers who have since followed in his footsteps.
Traditionally a honeymoon destination, the area around the Falls has been built up into a major tourist area, with attractions like Ripley's Believe it or Not Museum, and plentiful cheap eateries and chain restaurants.
Website: www.niagaraparks.com