Alcatraz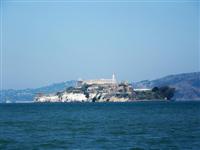 Out in the middle of San Francisco Bay, Alcatraz Island, or 'The Rock', is one of Golden Gate National Recreation Area's most popular destinations. The notorious escape-proof island with its dreaded maximum-security prison once held the likes of Al 'Scarface' Capone, George 'Machine Gun' Kelly and the 'Birdman of Alcatraz', Robert Stroud. With sheer cliffs surrounded by the icy waters of San Francisco Bay, known for its treacherous tides and currents, it was regarded as the perfect place to detain the country's most-wanted and dangerous criminals who were isolated in dark solitary confinement cells.
Visitors can explore the prison as well as learn about its history: from its discovery as a pelican nesting ground, its location as a military outpost, and the years between 1933 and 1963 as an off-limit federal penitentiary. It was also inhabited by Native Americans before being declared a Recreational Area and protected bird sanctuary. Thousands of tourists flock here each year and take the excellent self-guided audio tours that contain commentary from former guards and prisoners about life on the island and the notorious escape attempts. There is also a slide show and a tour of the island's ecology and bird life led by a park ranger. The view from the island looking across to San Francisco is fantastic as well.
E-mail: goga_alcatraz@nps.gov
Website: www.nps.gov/alcatraz
Telephone: (415) 773 1188 (ferry schedules and information), or (415) 705 1042 (park information)
Transport: Blue & Gold Fleet boats depart throughout the day beginning at 9am from Piers 41 and 33 Fisherman's Wharf. Night tours in summer and combined Angel Island-Alcatraz Island trips are also available.
Opening times: Ferries run from 9am. The last boat leaves the island at 6:30pm in summer (April to October) and 4:30pm in winter.
Admission: Admission to Alcatraz is free, but the charge for the ferry trip is $26 (adults) or $16 (children). Night tours: $33. Other concessions are available. Advance reservations are strongly recommended, especially in peak season.