Golden Gate Park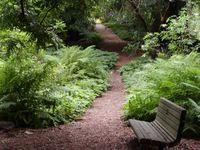 Of the many open green spaces in San Francisco, Golden Gate Park is the biggest and the loveliest stretching from The Haight to the Pacific Ocean, featuring gardens, lakes, numerous sporting facilities, and museums. On Sundays the main drive is closed to traffic and becomes the playground for joggers, cyclists, roller-bladers and strollers. The California Academy of Sciences includes the Natural History Museum, aquarium and planetarium. The serenity of the Japanese Tea Garden with its bridges, bonsai and fortune cookies is a favourite with tour groups. Opportunities for games and activities abound, with lawn bowling, disc golf, soccer, football, baseball and tennis all catered for. Although filled with people, the park never seems crowded and there is always a secluded space somewhere on the lawns or in the gardens. For a lively atmosphere, the Beach Brewery and Restaurant is a popular restaurant in Golden Gate Park. Golden Gate Park is even said to be haunted by its own resident spirit, the Stow Lake Ghost!
Address: John F Kennedy Drive
Website: www.golden-gate-park.com
Telephone: Park information (415) 831 2700 or (415) 321 8000 (Academy of Sciences). Japanese Tea Garden (415) 752 4227
Opening times: The Academy of Sciences is open daily 10am-5pm. Japanese Tea Garden is open daily 9am-6:30pm.
Admission: Park entrance is free. $10 (Academy of Sciences) plus $2.50 for the planetarium; $3.50 (Japanese Tea Garden).