Universal Studios Hollywood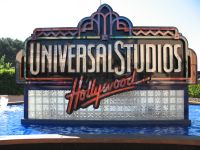 Universal Studios © Anthony Georgio
One of the most popular attractions in Los Angeles is Universal Studios Hollywood, reputedly the world's biggest film studio and theme park. The main attraction is the Studio Tour, a narrated tram ride that traverses the huge complex, passing stars' dressing rooms and famous back-lot sets, including an Old West town, the town square in 'Back to the Future' films, as well as Jurassic Park III and 'Curse of the Mummy's Tomb' sets. Along the way visitors will experience several realistic staged-disasters such as an earthquake, an avalanche, an attack by 'Jaws' and a meeting with an enormous version of 'King Kong'. Besides the tours there is a theme park that provides a thrilling introduction to the principles of special effects with several attractions and movie-related rides. The popular 'Back to the Future' ride is a simulated jerky flight in a time machine with exceptional special effects and is one of the park's best rides. The 'Jurassic Park' ride is a tour through a jungle full of frightening dinosaurs ending with an 84-foot (26m) near-vertical drop into water. Other attractions include the spectacular 'Waterworld' live action stunt performance, a realistic warehouse fire in 'Backdraft', a 'Terminator 2' 3-D show, and animal tricks on 'Animal Planet Live!' Universal CityWalk is a separate venue with shops, restaurants, cinemas and nightclubs.
Address: 100 Universal City Plaza, Universal City
Website: www.universalstudioshollywood.com
Telephone: (818) 622 3801
Transport: Universal City station on the Metro Red Line, or numerous public bus routes to Universal City.
Opening times: Opening times vary according to season and visitors are advised to check beforehand. Generally open daily in summer 8am-10pm (June to September), and in winter 10am-6pm (September to June).
Admission: $95 (Ages 10+), $87 (Children 3-9). Combination tickets are available. Universal CityWalk has free admission.