Universal Studios Hollywood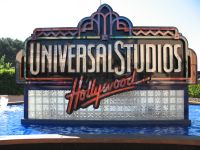 Universal Studios © Anthony Georgio
One of the most popular attractions in Los Angeles is Universal Studios Hollywood, reputedly the world's biggest film studio and theme park. The main attraction is the Studio Tour, a tram ride narrated by Jimmy Fallon that traverses the huge complex, passing stars' dressing rooms and famous back-lot sets, including an Old West town, the original house and motel from Hitchcock's Psycho, and the plane wreckage from Steven Spielberg's War of the Worlds. Along the way visitors will experience several realistic staged-disasters such as an earthquake, an avalanche, an attack by 'Jaws' and a meeting with an enormous version of 'King Kong'.
Besides the tours there is a theme park that provides a thrilling introduction to the principles of special effects with several attractions and movie-related rides. The Wizarding World of Harry Potter is a undoubtedly a firm favourite, featuring a recreation of the village of Hogsmead complete with shops and attractions, the state-of-the-art Harry Potter and the Forbidden Journey ride, and the rustic Three Broomsticks tavern offering up hearty meals and butterbeer. Other attractions include the spectacular 'Waterworld' live action stunt performance, the Transformers 3D ride, the incredible immersive Walking Dead experience, The Simpsons ride. For younger visitors the Despicable Me Minion Mayhem ride is both heart-warming and utterly exciting.
Address: 100 Universal City Plaza, Universal City
Website: www.universalstudioshollywood.com
Telephone: (800) 864 8377
Transport: Universal City station on the Metro Red Line, or numerous public bus routes to Universal City.
Opening times: Opening times vary according to season and visitors are advised to check beforehand. Generally open daily in summer 8am-10pm (June to September), and in winter 10am-6pm (September to June).
Admission: Between $95 and $129 (Ages 10+), between $87 and $123 (Children 3-9) depending on date of visit. Combination tickets are available. Universal CityWalk has free admission.