SeaWorld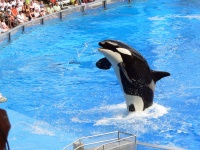 Shamu at Sea World © Stig Nygaard
SeaWorld is a leader in marine conservation and plays an important role in rescuing and rehabilitating animals found beached along the West Coast. It is also one of the world's largest marine entertainment parks and is a source of education as well as family recreation. The park is best known for its work with killer whales (orcas) and dolphins, and the Dolphin Interaction Programme provides the experience of feeding, stroking and wading with bottlenose dolphins (requiring advance booking and an additional fee).
SeaWorld's favourite attractions are its arena shows that run throughout the day, highlighting the behaviours and talents of trained marine mammals such as sea lions, walruses, otters, dolphins and killer whales. Most of the exhibits are walk-through marine environments like the Penguin Encounter that passes through a glass-enclosed Antarctica with remarkable emperor penguins sliding over glaciers into the icy water. The walk-through glass tube that passes through the Shark House affords frightening face-to-face encounters. Adventure rides include the Shipwreck Rapids ride with its turbulent rivers and underground canyons, the exhilarating Journey to Atlantis and the virtual-reality trip to the world of beluga whales, polar bears and walruses of the Wild Arctic. During summer peak hours the shows and more popular exhibits can be very crowded with long queues. Certain attractions are closed at certain times of the year. Check the website for more information.
Address: 500 Sea World Drive, San Diego, CA 92109
E-mail: SWC.GuestRelations@seaworld.com
Website: seaworldparks.com/en/seaworld-sandiego/
Telephone: (619) 222 4SEA
Opening times: Open daily, but park hours vary according to the season. Generally open 9am-10pm (summer) and 10am-5pm (September to May).
Admission: Single-park tickets are $89.99. Value tickets are also available, as well as combination packages with Disneyland and Legoland.