Kentucky Derby Museum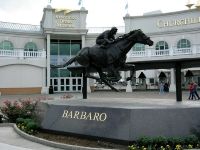 Barbaro Memorial © Cameron Aubernon
Even those who aren't horse racing fans can experience the thrill of the sport at the museum and through tours offered at Churchill Downs. Established in 1874, it's one of the world's oldest and most famous tracks, hosting the annual renowned Kentucky Derby.
The Museum contains exhibits that bring the pageantry and excitement of the Derby to life, including high-tech computerised hands-on displays and video graphics. A video entitled 'The Greatest Race' shows on a 360-degree screen every half hour from 9am to 4:30pm and from 12:30pm on Sundays.
Museum tour guides take groups of visitors to see the Churchill Downs' stable and infield areas, as well as through the historic Edwardian grandstand, finish line, and winners' circle.
Address: 704 Central Avenue
Website: www.derbymuseum.org
Telephone: 502 637 1111
Opening times: Monday to Saturday 9am-5pm (opens 8am from 15 March to November), Sunday 11am-5pm.
Admission: $16 adults and $10 children aged 5-14. Other concessions available.