Belle of Louisville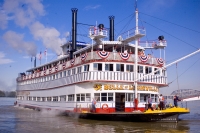 Belle of Louisville © Bo
The Belle of Louisville is America's oldest still-serving sternwheeler riverboat, plying the Ohio River from Louisville's waterfront to give visitors memorable sunset cruises, sightseeing excursions and Saturday night party cruises.
Powered by two steam engines and boasting 32 whistles, the historic boat was commissioned in 1914 and was originally named the Idlewild. She served as a packet boat for many years, carrying passengers and freight on America's inland waters.
In 1962 she was purchased by the Jefferson County authorities and refurbished, being declared a National Historic Landmark. Now, public sightseeing cruises depart from the 4th Street Wharf in Louisville.
Address: 401 West River Road
Website: www.belleoflouisville.org
Telephone: 502 574 2992
Admission: $43.99 adults, $31.99 children 4-14; other concessions available.