Louisville Glassworks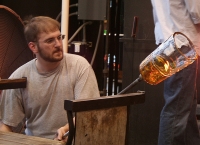 Louisville Glassworks Centre © Brendan Adkins
Louisville Glassworks is America's first complete centre dedicated to the art of glass, from architectural glassworks to the finest glass jewellery and ornaments. Located in Louisville on the corner of 9th and Market Streets in the historic Snead Manufacturing Building, visitors can watch glassblowers, flameworkers, cutters and designers at work, creating glass art in the open air and studios.
Renowned resident glassmakers are Mark Payton and Brook White, but Louisville Glassworks also plays host to visiting glasssmiths. Visitors have the opportunity to work one-to-one with an artist to create their own glass art. This is by appointment only. Guided tours are also available.
Address: 815 West Market Street
Website: www.louisvilleglassworks.com
Telephone: 502 992 3270
Opening times: Guided tours every Saturday at 11am, 1pm and 3pm. Self-guided tours may be undertaken Monday to Friday 10am-3pm.
Admission: Guided tours: $7.75; self-guided tours: $5.75, concessions available.