Kentucky Horse Park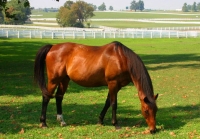 Kentucky Horse Park © Wes Blevins
The only theme park in the world dedicated to man's relationship with the horse, the Kentucky Horse Park in Lexington covers 1,200 acres in Kentucky's famous Bluegrass region. Visits begin with a film, followed by exploring the vast and comprehensive International Museum of the Horse.
Guests can also wander through a self-guided farm tour watching the farrier at work and admiring the tack shop, before attending a half-hour parade in the show ring, which highlights the characteristics of some of the park's 40 different breeds of horses.
In the Hall of Champions, legendary thoroughbreds are presented for viewing, and visitors can also enjoy a carriage or horseback ride around the park's extensive show facilities. The presentations are held only between March and October.
Address: 4089 Iron Works Parkway, Lexington
Website: www.kyhorsepark.com
Telephone: 859 233 4303
Opening times: 9am-5pm
Admission: Admission rates vary in accordance with the season, but adults will generally pay between $12 - $20 and children (6-12) $6 - $10.