Moremi Wildlife Reserve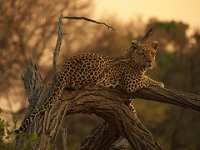 Moremi, about 37 miles (60km) from Maun, is a 1,160 square mile (3,000 sq km) reserve set in the middle of the Okavango Delta in one of the world's most pristine wilderness areas. It consists of a network of waterways surrounding two main islands; Chief's Island in the west and Mopane Tongue in the east. The reserve can be reached by air or road via Maun. Self-driving in the reserve is recommended only for experienced four-wheel-drive enthusiasts and only during the dry months. It is otherwise suggested that visitors arrange to be transported from Maun or make use of the vehicle safaris and boat trips offered from the reserve's luxury lodges.
A wonderful way to see the delights of the Delta is on a mokoro (a dug-out canoe), which is poled through the waterways by experienced guides. The adventurous can opt to stay in one of three serviced campsites in the reserve. These are unfenced and therefore provide an opportunity to experience nature at its purest form in the heart of Africa. The reserve itself is fenced, and therefore, with a diversity of habitats, it guarantees game sightings throughout the year.
Website: www.botswanatourism.co.bw/destination/moremi-game-reserve