Woodford Reserve Distillery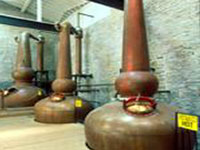 Besides horses, Kentucky is famous for its Bourbon whiskey. Numerous distilleries are open to the public, but one of the oldest still operating is the Woodford Reserve Distillery nestled between lush horse farms in Woodford County on McCracken Pike. Bourbon was first distilled here in 1812 when it was known as the Labrot & Graham Distillery. The beautiful limestone buildings have been restored to their original condition and the site is a National Historic Landmark. It is the only bourbon distillery still using copper pot stills, the traditional method of distillation. A visitor's centre provides displays and videos on the history of bourbon and guests can watch how bourbon is distilled in the traditional manner. The distillery offers several tours that include tastings.
Address: 7855 McCracken Pike, Versailles
Website: www.woodfordreserve.com
Telephone: (859) 879 1812
Opening times: Tuesday to Saturday 9am-5pm; Sunday 12:30pm-4:30pm (April to October). Woodford Reserve Bourbon Discovery Tour: Tuesday to Saturday hourly 10am-3pm. Sundays 1pm, 2pm and 3pm (April to October).