Frankfort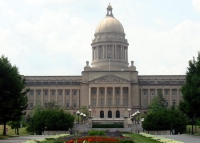 State Capitol, Frankfort © RXUYDC
The capital city of Kentucky, history-rich Frankfort is situated about 50 miles (80km) east of Louisville, about 50 minutes drive from Louisville International Airport. It boasts a vast array of architectural styles, famous landmarks, museums and enjoyable shopping precincts.
Among the interesting attractions in the city is the Old State Capitol, a Greek Revival building dating from 1830 with a unique self-supporting staircase held together by precision and pressure.
Other architectural sites include the Frank Lloyd Wright designed Zeigler house, dating from 1910, and the Switzer Covered Bridge, a beautifully restored Howe Trussed bridge dating back to 1855 that offers a lovely place for a picnic.
Besides numerous historic houses and buildings, Frankfort boasts a fascinating History Center, historic sites, war memorials and scenic wildlife reserves. Daniel Boone, the famous frontiersman, is buried in Frankfort Cemetery, overlooking the city.
The Buffalo Trace Distillery has been operating for over two centuries, and offers guided tours. The city also offers many active pursuits, including golf, horseback riding, canoeing, and hiking.
Website: www.visitfrankfort.com