Mammoth Cave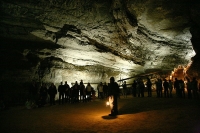 Mammoth Cave © Daniel Schwen
The Mammoth Cave National Park near Edmonson in south-central Kentucky boasts the longest cave in the world, with 405 miles (652km) of cavers and passages having so far been explored. According to experts, there's 'no end in sight'.
Officially dedicated as a national park in 1941, its cave system and scenic valleys of the Green and Nolin Rivers remain preserved.
The park offers camping, cave tours, hiking trails, hotel accommodation, canoeing, and horseback riding. There are a variety of expeditions on offer, with varying levels of difficulty and sightseeing options, run to different schedules.
Visitors should request a brochure and book in advance, as tours cannot be booked on the day.
Website: www.nps.gov/maca/index.htm
Telephone: 270 758 2180
Opening times: Visitors Center: November to March 8:30am-4:30pm; March to June 8am-6pm. Various different tours on offer daily.
Admission: Mammoth Cave Passage Tour: $8 adults, $6 children 6-12. Other tours range from $14-60. Concessions available.