D-Day National WWII Museum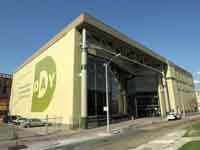 D-Day Museum, New Orleans ©
The unique D-Day National World War II Museum was founded in 2000 by historian and author Dr Stephen Ambrose and has become regarded as a highlight of any New Orleans sightseeing tour. Situated in New Orleans' Warehouse District, it depicts the June 6, 1944 invasion of Normandy, the Home Front during World War II, and the D-Day Invasions in the Pacific. Exhibit galleries include text panels, artefacts, and personal account stations where visitors can listen to the stories of war veterans. A panorama exhibit recreates a Normandy beach landing and there are also regular film shows.
Address: 945 Magazine Street, New Orleans. Entrance on Andrew Higgins' Drive
E-mail: info@nationalww2museum.org
Website: www.nationalww2museum.org
Telephone: (504) 528 1944
Opening times: Open daily 9am-5pm. Closed Mardi Gras Day, Thanksgiving Day, Christmas Eve and Christmas Day.
Admission: Museum only: $22 adults, $13 student, $19 senior (65+). Concessions and combo tickets available.